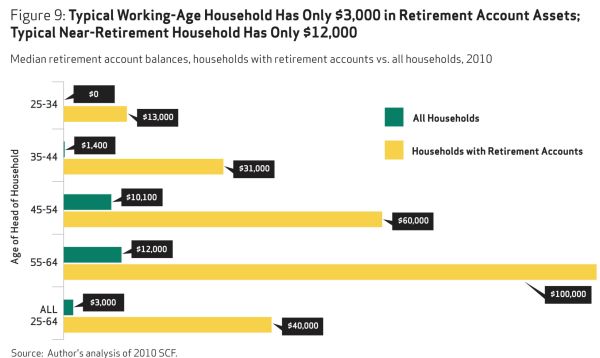 The Burning Platform:

Luckily,

the average American is so bad at math they can't read this chart and understand the implications

. They remain willfully ignorant of their plight. After a lifetime of working, the median Boomer household has managed to accumulate $12,000 of retirement savings. That means that 50% have even less than $12,000 for their retirement. These 

55 to 64 year olds are up shits creek without a paddle

. No wonder the percentage of over 55 people working is at an all-time high. Every age bracket has been living in a land of delusion. The entire country has bought into the "live for today" mantra. We have trillions in unfunded Social Security obligations that won't be paid. Cities and States have trillions in unfunded pension and health benefits that won't be paid. The government and its citizens have lived above their means for decades and haven't saved for a rainy day or their futures. Wait until the 40% stock market crash does a number on these figures in the next year.

There is no possible scenario where this ends well or can be solved by another government solution. It's too late. We're fucked

. Enjoy the rest of your day.